Every child is born ready to navigate their personal journey. As educators, our role is to observe and support each child as they find their voice and identity in the world. At CityKids we aim to slow down time and encourage children to remain inspired by the multicultural world around them. Our teachers remain inspired to perfect their craft by acknowledging the impact we have during these foundation stages of life.​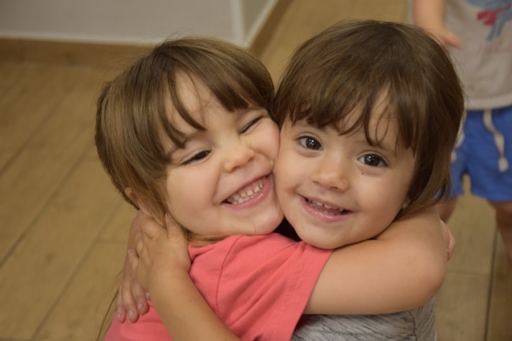 OUR TEAM
Elvia Fisher Meir, Owner and Director came to Israel in 2007 in her first stop in an around the world trip. A Psychology and Business graduate from Roger Williams University, her entrepreneurial brain got to work in 2010 after recognizing the lack of English speaking resources for families in central Tel Aviv. Elvia has spent the last eight years developing CityKids afterschool and nursery school programs, and advocating for quality education in Israel. She is proud to have brought such a resource to Tel Aviv and gets her inspiration from all the beautiful families and teachers that come through the CityKids doors.
Juliet Taylor, Nursery School Education Director came to Israel in 2013. Since arriving she has taught English to Sudanese and Eritrean refugees and also worked in a private language school teaching all ages and levels. Prior to living in Israel Juliet obtained a BA (Hons) from the Department of Fine Art, History of Art and Cultural Studies of Leeds University. She is an experienced class teacher, having worked at a leading Jewish primary school in London. Whilst working there she was head of the Art Department, a mentor for trainee teachers and responsible for creating a new phonics programme. Juliet has a postgraduate certificate in Psychology from London's Institute of Education and in line with this her teaching aim is to provide a warm, loving and nurturing environment for every child to fulfil their potential.
Ashley Reich, Administrative Director grew up in the suburbs of Philadelphia in New Jersey before making Aliyah in 2014. Before joining the CityKids family, she was a live in nanny for a family in Tel Aviv. Her love and passion for children started at young age. Through high school and college she worked at the Jewish Community Center in Margate City, NJ. There she started as a camp counselor and later become the Youth and Teen Director. As the Youth and Teen Director, Ashley planned programs and events for children of all ages and their families. Ashley is excited to help each child blossom and grow to their highest potential through a fun, exciting and creative learning environment.
Danielle Benzaken joined CityKids as Program Director in September 2018. She relocated from New York City where she taught second grade at a special education school in Brooklyn, NY. Prior to that she worked as a Nursery school teacher and programming director at the JCC in Manhattan. She was motivated to move to Israel to be closer to family and looks forward to continue working as an educator at CityKids!
Taylor Yaroslawitz grew up in New York City. She attended Tulane University in New Orleans, Louisiana, where she completed her Bachelors of Arts in Early Childhood Education, Psychology of Early Childhood and Sociology. Following university, she came to Israel for her student teaching at The Tabeetha School in Jaffa. Upon completing her student teaching and acquiring her teacher's certification in the United States she finished up the year as the form teacher for the third grade at The Tabeetha School. In September 2013 she made Aliyah. Taylor received her Masters of Arts at Tel Aviv University's Bob Shapell School of Social Work in Trauma and Crisis Intervention Studies.
Pascale Neumark made aliyah in 2005 with her Israeli husband and three children. After living in Holland, Spain, Switzerland and Belgium she received her BA in Languages and a Law. She practiced as a lawyer until she decided to be a stay-at-home mom. Once her children were old enough she began volunteering in a preschool for refugees for a year which led her to become a preschool and French teacher at an international school for more than two years. She is looking forward to continuing learning, discovering, growing and having fun with all the amazing children of the Two's group!
Becky Rottermann is a trained Psychologist and has worked in education for several years. She was born in Colombia and was very active as a madricha in Jewish education and youth movements. She strongly believes that every human being finds their identity through strengthening bonds with the natural world and the community and that nuturing compassion and mindfulness in children will change the world. Last year Becky ran our Tzaharon, Friday Club and Camp programs. She is excited to have a full time position in the classroom in the coming year!
Sara Worthington discovered her love for working with children while completing her BA in Communication. During her studies she worked as a preschool teacher and has volunteered for various adolescent ESL programs since. In 2017 she participated in the birthright program and fell in love with Israel. Fast forward to March 2018 her and her two dogs made Aliyah from Los Angeles, CA and found a second home at CityKids. Sara is excited to create a fun and nurturing environment for the children in order to help them to achieve their full potential.
Arantza (Zazu) Cadiz Miranda Gal is a veteran teacher from Majorca who has been teaching in the early years in Spain, the UK and Hong Kong for over 7 years. She is joining CityKids for her third year and looks forward to continuing incorporating her love of theater and drama into the Four's classroom.
Fallon Renard hails from the Valley in Los Angeles. She did her MASA internship at CityKids and decided to stay in Israel and make Aliyah. She graduated from San Francisco State University with a BA in Liberal Studies with an emphasis in Life Science and a minor in Jewish Studies. Her passion for working with children started early on from attending Jewish sleep away camp. She worked as a counselor for 5 years and taught preschool and third grade religious school. Being a part of CityKids is an amazing experience and she is excited to begin her fourth school year!
Nicole Nembach was born and raised in New York. She received her bachelor's degree in education and psychology. After she graduated, she worked for a year at a preschool in Queens, NY before participating in MASA Israel Teaching Fellowship, teaching English at an elementary school in Petah Tikvah. When the program ended, Nicole returned to NY and worked at a preschool in Manhattan until making aliyah and joining CityKids in July 2017!
Adena Levi was born in Brooklyn, New York and grew up in South Florida. She has just made Aliyah this month! She taught in South Florida for eighteen years in both private and public schools before moving with her husband to Houston, Texas. While in Houston, she taught in a Jewish day school. This will be her twenty fourth year in early childhood education. Her favorite classroom activities include Circle Time and Storytime. Her heart, soul and passion go into her teaching!
Zach Izeman is originally from Cleveland, Ohio and recently made Aliyah in December 2018. He attended the University of Akron where he studied Early Childhood education. He worked as the assistant director of the theater program and summer camp at The Cleveland Jewish Community Center for two years, and was teaching drama at a Jewish day school before moving to Tel Aviv. He is very excited to start his second year as part of the CityKids team, and getting to know the kids and their families.
Tali Azoolin is very excited to join CityKids this school year. She recently moved to Tel Aviv from Fort Lauderdale, Florida after graduating with a degree in Elementary Education from Towson University. She has a passion for working with kids of all ages and serves as a Director at a sleep away camp in the United States every summer.
​
Danielle Benzaken joined CityKids as Program Director in September 2018. She relocated from New York City where she taught second grade at a special education school in Brooklyn, NY. Prior to that she worked as a Nursery school teacher and programming director at the JCC in Manhattan. She was motivated to move to Israel to be closer to family and looks forward to continue working as an educator at CityKids!